Printing Terms Glossary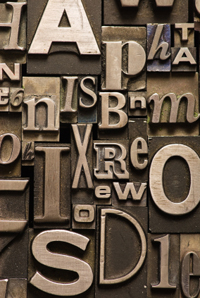 We take great pride in making our clients feel confident about their jobs during the production process. To help you gain a better understanding of what's happening to your project, we've compiled a glossary of terms that we commonly use in our industry.
A
B
C
D
E
F
G
H
I
J
L
M
O
P
R
S
T
U
V
W
Z
Acid Free

A type of paper that has had the acid removed from the pulp so that it has a neutral pH (7.0 or above).

Alterations

To make changes to your document

Aqueous Coating

A coating that's applied like ink by a printing press in order to protect and enhance the surface

Bi-fold

A document that has been folded twice. Also known as double folded

Bleeds

A portion of a document that extends beyond the intended borders, having the image "bleed" over the edge.

Booklet Making

The process of binding multiple sheets or spreads together to form a multi-page document. Most booklets require a page count that is divisible by 4.

Brand

How a customer (or potential customer) experiences your company through a variety of touchpoints.

C-fold

A folding method that creates 6 equal-ish panels, 3 on each side. Outer edges are folded toward each other so that they overlap

Carbonless

A type of coated paper that transfers information written on the top sheet to sheets underneath.

CMYK

An abbreviation for ink colors: Cyan (C) , Magenta (M), Yellow (Y), and Key (K) also known as Black. These colors are combined to create all other colors in printing.

Coated

Paper that has been coated by a compound or polymer in order to add specific qualities (ie weight, gloss, smoothness, etc)

Collate

To put printed documents in a particular order

Color Proof

A mock up of a project before printing as a color reference guide so adjustments can be made

Die Cutting

Using a steel blade to cut paper or vinyl in a specific shape.

Digital Printing

Sending a project to print digitally

Dot Gain

Dot is the basic halftone printing unit. A series of these dots are combined to create a printed image. Dot gain is the effect of the halftone dots growing between the original film and the printed sheet. It's a measurable, predictable, controllable effect of the printing process.

Double Parallel Fold

Folding a document in half, then folding it in half again

Dummy

Duplex Sheet

Printing a sheet of paper on both sides at the same time

Embossing

Raising letters or graphics on a project (sign, folder, or letter) through stamping, hammering, or molding.

Engraving

Cutting a design into the surface of a hard material using a handheld machine.

EPS

A file format that be inserted into other files. It stands for Encapsulated PostScript Format.

Face Trim

Trimming saddle-stitched booklets that are folded and stapled

Felt

A type of paper finish with a velvety, felt-like pattern

File Format

The structure of how information is encoded in a computer file. (I.e. JPG, EPS, etc).

Finishes

The final stages of creating paper that enhance the finished product.

Flat Size

Digital files assembled and ready for platemaking, the final step before printing.

Foil Stamping

Pressing a heated die onto a sheet of foil that transfers it to the paper, creating a foil design on the finished product.

Folded Size

The dimensions of a finished project after it's folded.

Gate-fold

A type of fold that entails the left and right sides of a page being folded into the middle without overlapping.

GBC Bind

Using plastic binding combs to hold together a manual or booklet.

Grain Direction

The direction of fibers in paper generated during production.

High Resolution

An image with at least 300 dpi (dots per inch).

Imposition

Part of the prepress process that consists of arranging the project on a print sheet in order to obtain faster printing, simpler binding, or reducing waste.

Imposition Proof

The last test that is printed before beginning the print run.

Ink Draw Down

A way to evaluate the color mixing of a printing ink by depositing a layer of the mixed ink on the surface using a smooth-edged knife.

JPEG

A common file format for compressing color digital images.

Laid

A type of paper with a ribbed texture.

Letter Fold

A common type of fold with both ends of the paper folded toward each other so that they overlap.

Linen

A type of paper that emulates the look of linen cloth with slightly lifted grooves that give it a textured feel.

Links

A link is a connection between a web source to another.

Matte Coat

Having a dull or non-shiny surface or finish.

Mill Item

An item that requires ordering from a manufacturer.

Offset Printing

A printing process that transfers ink from a plate to a rubber plate that deposits the ink onto the paper (instead of directly from the plate to the paper).

Original Size

The dimensions of an image when it was originally created.

Pagination

The series of numbers assigned to a book or document.

Panels

The visible surface of a sign on which copy and/or art is present. One or more panels make up the sign face.

Pantone or PMS

A standardized color matching system used in the printing industry to ensure the consistency of color from design to final print.

PDF

PDF stands for Portable Document Format, which is a file format used to present documents independent of software.

PDF Proof

A PDF of your project for you to approve before going to press.

Perfect Bind

A bindery method where all pages are trimmed to a single sheet, clamped together, and wrapped with a spine all glued together.

Perforation

Creating a line of small dots with a binder machine with the purpose of tearing-off a part of a page.

Pixilation

The ability to see individual pixels in a picture because it is blown up too large.

Plastic Coil

A binding style that uses a plastic coil to create documents, reports, or presentations.

PMS

A standardization color scheme used in the printing industry to ensure the consistency of color from design to final print.

PNG

PNG stands for Portable Network Graphics, which is a file format with low resolution images that don't sacrifice quality.

Prepress

Work done on a publication before it is actually printed (typesetting, layout, etc).

Rasterize

Converting digital images into a series of pixels that can be displayed on a screen or printed.

Recycled Content

Reusing content in a form different than that which it was created (i.e. pulling a blog post from an ebook).

RGB

RGB (Red, Green, Blue) refers to a system of displaying colors on a computer screen. These three tones can be used to create any other color.

Saddle Stitch

Binding with staples in the spine of the book.

Screen Printing

A method of printing that is capable of producing great detail and color on a variety of materials (ie. paper, plastic, vinyl, etc).

Sheets vs. Pages

Sheets and pages are often used interchangeably, but they are not the same. Sheet refers to a sheet of paper. Sheets are folded to create pages of a booklet. (ie. Folding one sheet of paper in half creates 4 pages).

Signature

A group of pages that are printed on both sides that are folded, trimmed, bound and cut. The number of pages on a signature depends on the page size and the size of the press sheet they fit on.

Silk

A smooth, delicately-embossed paper with sheen. Also referred to as satin.

Sizes

Common paper sizes:
Letter 8.5x11
Legal 8.5x14
Ledger (Tabloid) 11x17

Smooth

A type of paper that is ideal for printing lots of details.

Spot Color

Any color that is printed using a single run. Offset printing is composed of four colors: Cyan, Magenta, Yellow, and Black (referred to CMYK).

Thermography

A printing process that relies on heat to create slightly raised text or images on the surface.

TIFF

Tagged Image File Format (TIFF) is a standard graphics file used for exchanging raster graphics images between programs.

Trap

Creating a third color when two colors overlap in screen printing.

Typsetting

A print industry term that evolved from process of assembling metal letters or words to begin the printing process. The term is still utilized some today to define the processes of manipulating or changing digital artwork before production.

Uncoated

Paper that has flat or non-gloss finish. Can also refer to paper that has not been coated with UV or Aqueous coating during the finishing process.

UV Coating

Liquid applied to a printed sheet that is bonded and cured with UV light during the finishing process resulting in a durable surface.

Variable Data

A form of digital printing where elements such as text or images can be changed from one printed piece to another.

Varnish/Spot or Flood

A type of liquid coating applied to paper that are available in gloss, satin, or dull finishes.

Vector

Vector art uses mathematical equations to create art that is clean, camera ready and can be scaled infinitely without any loss of quality. Vectors are created using software programs like Adobe Illustrator.

Vellum

Smooth writing paper that imitates vellum.

Weights

Common paper weights:
Standard or text weights include 20#, 50#, 60#, 70#, 80#, 100#
Card or cover stock weights include 65#, 80#, 90#, 100#, 110#, 120#
Board or heavy card stock include 10pt., 12pt., 14pt. and 16pt.

Z Fold

A folding method that creates six panels with equal sizes, three on each side of the paper. Two folds are made in opposite directions that form a shape that resembles the letter Z.